Co-Chair Jenny Chalmers
David was elected at Making a Difference Biennial Forum 2019.
Jenny is an Anglican priest, vicar of St Andrew's Taupō, with oversight of Reporoa and Turangi Uniting Parishes and is Vicar General of the Waiapu Diocese. She also serves on the Union Parishes Oversight Group, (based in Palmerston North).
"My acad
emic interest is Jewish Christian Relations, I am a member of the executive of the Australian Council of Christians and Jews, and I was the foundation Christian co-chair of the Wellington Abrahamic Council, of which I am still a member."
She's a District Chaplain for St John, chairs the Taupo Area committee, is a trustee of the Taupō Hospice. Married to John Reid, they have two daughters and two granddaughters.
Co-Chair David Hall
David Hall was elected at One More at the Table Biennial Forum 2017.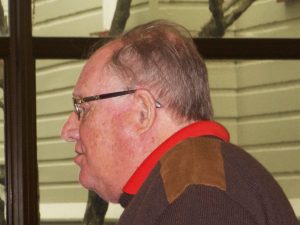 Member of St John's Bucklands Beach Co-operating Parish for 29 years.
Parish representative on Auckland Anglican Synod for 25 years, member PCANZ Resource Sub Committee, and Auckland Regional Forum (Secretary 2011-2013, Chair 2013-2016). Elected member of UCANZ Standing Committee from 2011.
Born and educated in England, Chartered Electrical Engineer. Before retirement in 2009 was Executive Director of The Leprosy Mission New Zealand and member of the board of The Leprosy Mission International.
Former Convenor of the Auckland Anglican Social Justice Group. Editor of Do Justice, a monthly newsletter from the Social Justice Group. Co-opted member of "Talking Cents", an ecumenical group charged by the Auckland Anglican Diocesan Council to promote an alternative to current economic and political thought, and to encourage debate within the church. Governance Committee member of Living Wage Movement Aotearoa New Zealand Inc since its founding.
In addition to writing on religious and social justice issues, I regularly preach at my local church. Married to Mary for 52 years and still going. Daughter Stephanie a Youth Pastor at Papakura Anglican Church. Two grandchildren, one of whom will make us great-grandparents shortly.
Executive Officer – Adrian Skelton
Adrian Skelton took up the role of Executive Officer on 1 October 2016. Adrian comes from an extensive ministry background both here and in the United Kingdom involving uniting and ecumenical ventures.  He has been working in New Zealand since 2009; until 2016 as minister at St Andrew's Presbyterian Church in Hastings which has a close working relationship with the neighbouring Anglican Church.  In 2016, he organised a national Progressive Spirituality conference alongside Methodist and Anglican colleagues.
Adrian brings with him experience and passion for teaching, administration, choral music, theatre, cycling, and tramping.  He sings in Wellington's Gale Force Gospel community choir and is a supporter of Project Prima Volta in Hawke's Bay (which trains young people for the Festival Opera chorus). 
 Adrian's email: adrian@ucanz.org.nz
Administrator
Margaret Pitt is the Administrator of the UCANZ office, processing statistics and office account. She is a church member from Ngaio and works three day a week.
Standing Committee 2019-2021
Co-chairs
Jenny Chalmers (Taupo) and David Hall (Bucklands Beach) – pictured above.
Elected members
David Harding (Wellington), Chris Auchinvole (West Coast), Fakaofo Kaio (Auckland), Heather Kennedy (Ashburton), Alan Robinson (Northland), Geraldine Coats (Wellington), and Andrew Howley (Alexandra)
Partner representatives
(Anglican – two to be appointed), Clare Lind and Stephanie Wells (Presbyterian),
Ian Harris (Methodist), Tale Hakeagaiki (Congregational Union)
Standing Committee 2017-19

CO-CHAIRS
Stuart Sinclair (Hillcrest, Hamilton) and David Hall (Bucklands Beach)
ELECTED MEMBERS
Geraldine Coats (St Anselm's, Karori), Andrew Howley (Alexandra-Clyde-Lauder), Fakaofo Kaio (Onehunga), Heather Kennedy (Ellesmere),
Alan Robinson (Kaeo-Kerikeri), Morven Sidal (St David's Timaru), Kathryn Walters (Christchurch), and Hugh Williams (Johnsonville)
Partner representatives
Jenny Chalmers and John McCaul (Anglican),
Tale Hakeagaiki (Congregational Union),
Paul Burton (Christian Churches),
Trevor Hoggard and Ron Malpass (Methodist),
Clare Lind and Jim Veitch (Presbyterian)
Standing Committee 2015-17
The Standing Committee elected at 2015 "Big Ideas for Smaller Churches" Biennial Forum are:
Co-Chairpersons; Lyn Heine and Stuart Sinclair
Elected Members; Clare Morrison, David Hall, Morven Sidal, Don Smith, Katherine Walters and Lynley Wilson.
Partner Representatives;
Anglican: Jenny Chalmers and John McCaul
Christian Churches: Paul Burton
Congregational Union: Tale Hakeagaiki
Methodist: Trevor Hoggard and Ron Malpass
Presbyterian: Clare Lind and Jim Veitch
Standing Committee 2011-2013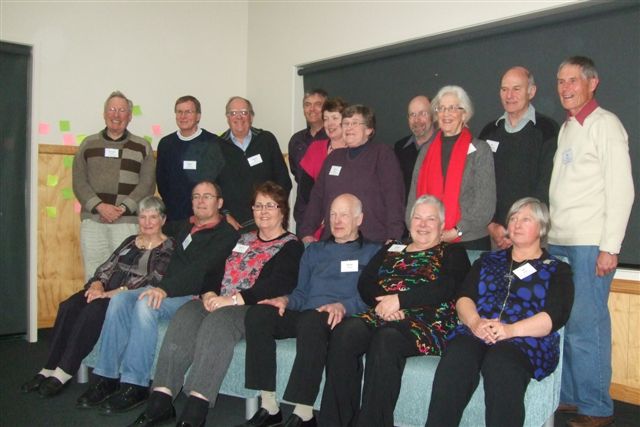 Back Row from left to right: Lyndsay Jacobs, Robert McLay, David Hall, Nigel Hanscamp, Catherine Dunkley, Rilma Sands, Stuart Sinclair, Helen Bichan, Eric Wadsworth, and Don Smith.
Front Row: Beverley Deverell, Peter MacKenzie (Executive Officer) Marilyn Welch and David Dittmer (Co-chairpersons) Robyn Daniels (Administrative Assistant) and Lyn Heine.
Standing Committee 2009-2011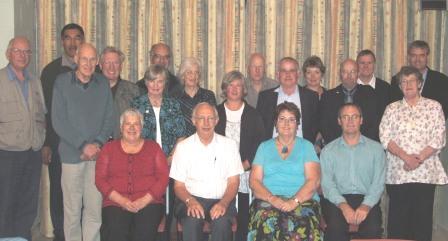 Left to right back row: David Ross, Tale Hakeagaiki, Lyndsay Jacobs, Neville Price, Helen Bichan, David Dittmer, Catherine Dunkley, Robert McLay and Nigel Hanscamp.
Second row: Winston Baker, Beverley Deverill, Lyn Heine, David White, Stuart Sinclair and Rilma Sands.
Front row: Robyn Daniels (Administrive Assistant), Geoff Donovan and Marilyn Welch (Co-chairpersons) and Peter MacKenzie (Executive Officer)
Absent from photo: Tony Bell
Standing Committee 2007-2009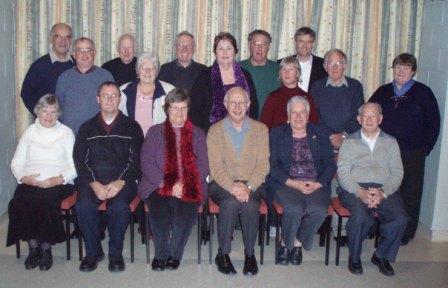 Standing Committee 2007-2009
From left to right (Back row) Neville Price, Graeme White, David Dittmer, Mary Sutton, Lyndsay Jacobs, Marilyn Welch, Tony Bell, Lyn Heine, Nigel Hanscamp, Ken Linscott, and Rilma Sands.
(Seated) Beverley Deverell, Peter MacKenzie (Executive Officer), Janet Taege (Co-chairperson)
Geoff Donovan (Co-chairperson) Robyn Daniels (Administrative Assistant) and Bryce Morris
Absent from photo Winston Baker, Catherine Dunkley and David Ross