Forum took place in Alexandra from 17-20 October. In the Opening Service on Thursday, Shirley Howden spoke about Central Otago Values. 
Sue Brown, from Ngaio, ably lead our morning worship sessions.
On Friday we heard from three Church leaders: Moderator Fakaofo Kaio, President Setaita Vaikune, and Bishop Steven Benford – Presbyterian, Methodist, and Anglican respectively.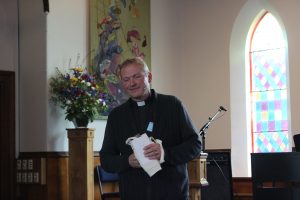 Wonderful hospitality was provided by the Alexandra-Clyde congregations, whose minister Rev Andrew Howley and his wife Dr Rosalie Evans hosted us so well. Arrangements were even made to watch the World Cup Rugby on Friday night.
We also had superb musical entertainment – songs, sacred and secular – from David Dell. You can download the music for the song he wrote specially for the Forum, here. Please report your usage via your CCLI licence reporting.
On Saturday came analysis of our mission and standing as uniting churches came from
 two top New Zealand scholars, Kevin Ward and Peter Lineham. Read Kevin's talk, Practising the hospitality of God. View Peter's presentation here.
Methodist Women's Fellowship President, Siniva Vaitohi, shared the NZMWF's focus on UN strategic development goals in a workshop. Other workshops were offered by Heather Kennedy, Andrew Howley, David Dell and Anna Gilkison.
All in all it was an inspiring visit to a glorious part of the country.